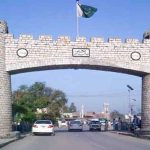 A police van plunged into a ravine in Attock on Wednesday, killing two officers and injuring 25 others.
A rescue operation is underway ongoing to provide first aid to the injured officials.
The police officials were headed towards Islamabad to provide support to the federal capital police as the latter were tackling to prevent people from reaching Islamabad under Pakistan Tehreek-e-Insaf's "Azadi March".