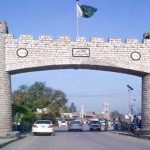 MAKKAH: In Saudi Arabia, over two million Muslims from across the world have gathered in Makkah Mukarramah for Hajj rituals, which are starting from today.
This year, the annual pilgrimage has become increasingly hi-tech with apps to help the faithful navigate Islam s holiest sites.
Saudi authorities are pushing a "smart hajj" initiative to meet with the growing demands of hajj, which coincide with the kingdom's unprecedented modernization drive.
Every Muslim is required to complete the hajj at least once in their lifetime if they have the means to do so. The annual pilgrimage sees the Muslim faithful gather in Mecca, all clad in white, to perform rituals around the black Kaaba cube.
The hajj also features a symbolic stoning of the devil ceremony, marking the start of Eid al-Adha, a three-day feast.
Eid al-Azha includes the slaughter of sheep, with the meat distributed to Muslims in need. The ritual symbolises Hazrat Ibrahim's willingness to sacrifice his son, Hazrat Ismail, on the order of Allah.