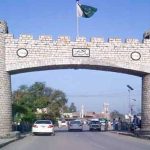 PESHAWAR: Two more persons died here on Tuesday of dengue epidemic, raising the total death toll due to mosquito borne disease to 52 in Khyber Pakthunkhwa.
According to Dengue Response Unit of Health Department, the deceased were identified as Mehar Taj, wife of Jumma Khan (65 years) resident of Sufaid Dehri Benazir Abad area and Aslam son of Mukarram Umar (70 years) and dwellers of Pavaka. Both the deceased were admitted to Khyber Teaching Hospital on October 5, 2017.
On Tuesday (October 10) around 1790 dengue tests were conducted out of which 368 were found positive to disease.
A total of 121 patients were admitted today in hospital for treatment raising the total number of dengue patients presently getting treatment in different hospitals to 427.
About 103 patients were discharged today from different hospitals after improvement in there conditions.