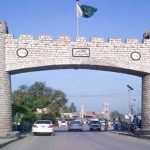 PESHAWAR: two more polio cases from Khyber Pakhtunkhwa were on Thursday confirmed after which the tally for the current year reached 19.
According to an official of Emergency Polio Centre Khyber Pakhtunhwa, two children of 14 and 17 months age from DI Khan and North Waziristan district were diagnosed with the polio virus. The number of the polio cases in Khyber Pakhtunkhwa has reached to 13, six of affected children  belong to tribal districts.
Three polio cases have been reported in Sindh and three in Punjab Punjab, while Khyber Pakhtunhwa has the highest number of polio cases in 2019.