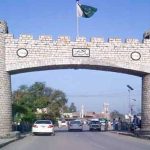 SHIKARPUR: A station house officer (SHO) and an assistant sub-inspector (ASI) of the Lakhi Ghulam Shah Police Station embraced martyrdom while three officers sustained critical bullet wounds on Sunday morning in an encounter with dacoits in Kacha area of Shikarpur district.
Reportedly, SHO Murtaza Mirani and ASI Zulfiqar Panhor were killed on the spot, whereas injured officers included Jahanzeb, Saddam and Rasool Bakhsh.
A heavy contingent of police rushed to the spot and shifted their bodies to a hospital in Sukkur for medical attention. Officers cordoned off the site of the incident, and began search operation in the adjoining region.
Meanwhile, robbers managed to escape from the scene. Dozens of police officers are taking part in the ongoing operation against the dacoits and raiding their suspected hideouts.
The incident occurred at Bachal Shah when police went on the hunt for suspects involved in the murder of a rickshaw driver four days ago.