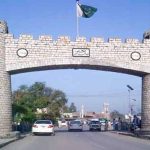 KOHAT: Deputy Commissioner Kohat, Khalid Ilyas called on Ulema from all schools of thought to play their role in maintain peace and harmony in the Holly month of Muharram-ul-Haram.
In a meeting with delegations of Ahle-Sunnat and Ahle Tashi in his office, he stressed the need of mutual cooperation for maintaining law and order situation in Muharram.
Ulema , Zakareen and elders from all sects assured their full cooperation to the administration. Elected representatives of local government, DPO Kohat Sohail Khalid , Tehsil Nazim Malik Taimour were also present in the meeting.
On this occasion , Deputy Commissioner Informed that all decision would taken with consultation from all stakeholders including Ulema from both sects to ensure peace during entire moth of Muharram.
The meeting was informed that around 3,000 police personnel will perform duty in Muharram and lady police will be also deployed at check posts.
Deputy Commissioner said that due to effective security plan and cooperation of local this Muharram will also pass peacefully.
Former MNA Javed Ibrahim Paracha and former Chief Justice Ibne Ali also addressed Jirga of both communities.