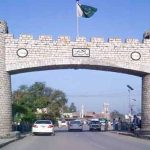 WASHINGTON: Pakistan's Ambassador to the United States Aizaz Ahmad Chaudhry said that security situation across the border in Afghanistan is a risk for Pakistan's growing economy, stressing that his nation is waiting for the Trump administration to clarify its strategy for the Afghanistan conflict.
In an interview to Washington Post, Aizaz Ahmad Chaudhry said that counterterrorism campaign launched by Pakistan Muslim League-Nawaz (PMl-N) government and Pakistan Army in the northwest Federally Administered Tribal Areas has sharply reduced the terrorism.
He said that relations with Washington are stronger today than at any other time since the covert American commando raid that killed al Qaeda founder Osama bin Laden in his Pakistani hideout six years ago.
He said the U.S. has sent roughly $2 billion a year in aid to Pakistan in the past two decades. The majority of the money was aimed at supporting the Pakistani military, he continued.
"There are issues on which Pakistan has its own positions regardless of what the U.S. position is," said Mr. Chaudhry, noting that Pakistan is at risk of flooding as Himalayan glaciers melt. "We supported the Paris talks. We committed to it," he added.