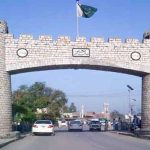 SWABI: Khyber Pakhtunkhwa Chief Minister Pervez Khattak has responded to the criticism of opponent political parties regarding a report of United Nations Development Program's (UNDP) report showing that Punjab fares better than other provinces on human development.
Addressing the inaugural ceremony of Karnal Sher Khan-Katlang section of Swat Motorway here on Monday, the Chief Minister said that the report of UNDP was based on the time period from 2005 to 2013.
He said that people should carefully read the report and refrain from creating a drama.
Pervez Khattak also said that during the Pakistan Tehreek-e-Insaf (PTI) government in Khyber Pakhtunkhwa, a lot of reports have been published showing the province on top.
Commenting on the opponents' questions as to what has been done in Khyber Pakhtunkhwa, the Chief Minister said that they would find out answers to these questions in the upcoming general elections.
Pervez Khattak said that they put the provincial institutions in order adding that they (opponents) did not know how to fix the system.
Prior to this, Pervez Khattak inaugurated 50 kilometers long Karnal Sher Khan-Katlang section of Swat Motorway.
The fifty-one-kilometer-long section has already been completed while the remaining thirty kilometer long portion of the motorway will be completed by the end of this year.