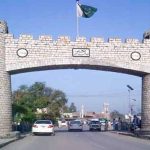 WANA: Unidentified saboteurs blew up two electricity towers with explosives in South Waziristan tribal district on Friday.
As per details, the incident was occurred in the South Waziristan's Gomal Zam Nilikatch area. The unidentified militants used explosives. The towers have been completely damaged. The sabotage resulted in the suspension of electricity supply to a number of areas of the district.
Due to the destruction of towers, the power supply from the 132 kV grid station has been suspended to several areas. The residents of the area are facing severe problems due to the suspension of electricity. A technical team has arrived at the site to assess the site, and repair work will begin soon.
The residents of the area demanded immediate restoration of electricity from the authorities.