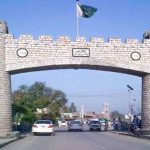 PESHAWAR: The Khyber Pakhtunkhwa Assembly today (Friday) witnessed uproar as opposition members registered protest over lack of quorum during the session.
Deputy speaker Mehar Taj Roghani chaired the meeting in which participants indicated at lack of quorum and chanted slogans against Pakistan Tehreek-e-Insaf (PTI) chief Imran Khan. The speaker tried to bring the situation under control but it intensified.
Subsequently, the session has been adjourned till Tuesday over quorum attendance matter.