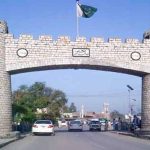 ISLAMABAD: The United States has agreed to provide a grant of 81 million dollars for the construction of Kurram-Tangi Dam in North Waziristan Agency.
According to reports, an agreement for this purpose has already been signed between the US Agency for International Development and Water and Power Development Authority (WAPDA).
The Kurram-Tangi Dam on completion will have a gross water storage capacity of 1.2 million acre feet (MAF) and produce 83.4 megawatts electricity. It will also irrigate 362,000 acres land in North Waziristan and Bannu, Press Information Department reported.
The project will be implemented in two stages. Stage-I of the project will be completed in about three years.
The Kurram Tangi Dam is a significant project for the country as it will provide water for irrigated agriculture in North Waziristan Agency and Khyber Pakhtunkhwa, mitigate floods and generate hydel electricity.
This should be noted that Pakistan is facing shortage of dams. The biggest five dams of Pakistan are: Tarbela Dam, Mangla Dam, Mirani Dam, Warsak Dam and Sabakzai Dam.