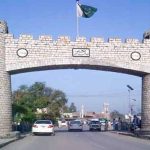 WASHINGTON: Following Pakistan's pursuance of a case against US diplomat who killed a motorcyclist in hit-and-run in Islamabad, it was reported that United States is now considering to impose restrictions on the movement of Pakistan diplomats in Washington. But the US State Department has denied imposing any such travel curbs.
Contrary to reports that the US might impose travel restrictions on Pakistani diplomats from May 1, the Voice of America says the US State Department confirmed via email that "no restrictions on travel for Pakistani diplomats in the United States".
The Indian media reported that Donald Trump-administration had taken the decision after Pakistan lodged strong protest with US over killing of a Pakistani student by American military attaché in Islamabad.
Pakistan's embassy in Washington told VOA on Tuesday that it had received no information about such restrictions.
It was reported that if sanctions were proved, Pakistani staffers would be allowed to travel only in 40-kilometer radius of embassy whereas formal permission would be required to travel the distance surpassing the limit, the DC report says.