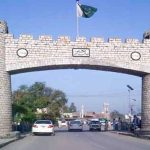 The rupee lost further ground against the US dollar on Monday morning, losing Rs1.46 in intraday trading.
Reports that the board of the International Monetary Fund (IMF) will not meet for another two or three weeks and rising pressure on reserves amid repayment of loans and imports saw the reserves with the State Bank of Pakistan created further pressure on the US dollar.
The US dollar was trading for Rs212.46 by midday on Monday with the intraday interbank trading seeing a high of Rs213.21 with a low of Rs211.
The low was higher than Rs210.95, the level at which the interbank had closed on Friday.
The US dollar had attained a record high value of Rs211.93 on June 22. But with falling reserves and lower remittances, this level could be breached any time soon.
Dollar traded at Rs216 in open market
With the US dollar being traded at over Rs212 in the interbank, in the open market, its prices have soared to a record Rs216.
According to a rate list issued by the Forex Association of Pakistan, it listed the interbank trading rate for the US dollar at Rs214.50 for buying and Rs215.50 for selling.
For the free-floating open market, rates were suggested at Rs215 for dealer buying and Rs216 for dealer selling.