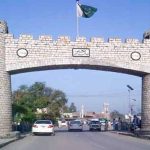 WASHINGTON: Democrat Joe Biden took a huge step Wednesday to capturing the White House, with wins in Michigan and Wisconsin bringing him close to a majority, but President Donald Trump responded with fury as his campaign sued to suspend vote counting, Khyber News reported.
In a brief address on national television, Biden said he wasn't yet declaring victory, but that "when the count is finished, we believe we will be the winners."
Biden reached 264 electoral votes against 214 so far for Trump. By adding the six of Nevada, where he is narrowly ahead, or the larger prizes of hard-fought Georgia or Pennsylvania, Biden would hit the magic number of 270 needed to win the White House.
American presidential elections are decided not by the popular vote but by securing a majority in the state-by-state Electoral College, which has 538 members. Trump, 74, claimed victory unilaterally and made clear he would not accept the reported results.
"The damage has already been done to the integrity of our system, and to the Presidential Election itself," he tweeted, alleging without proof or explanation that "secretly dumped ballots" had been added in Michigan.
An observer mission from the Organization for Security and Co-operation in Europe, which monitors votes around the West and former Soviet Union, found no evidence of election fraud and said that Trump's "baseless allegations" eroded trust in democracy.