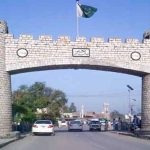 WASHINGTON: After U.S. ordered the closure of the Chinese consulate in Houston, Beijing has threatened to retaliation over Trump administration's move.
According to the details, Chinese foreign ministry spokesperson Wang Wenbin said that the order constituted an "unprecedented escalation" in tensions, following months of deteriorating relations between Washington, D.C. and Beijing.
"If the U.S. continues to go down the wrong path, we will resolutely respond," Wang said,
Wang's remarks came hours after Houston emergency services were called to the consulate following reports of staff burning documents there.