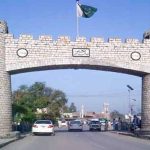 ISLAMABAD: Six suspects have been nominated in an FIR for involvement in controversial video of accountability court judge Arshad Malik.
Judge Arshad Malik was removed from post after PML-N released a video showing him allegedly admitting to lack of evidence against Nawaz Sharif in Al-Azizia reference.
Judge Arshad Malik in a petition stated that PML-N leaders Shehbaz Sharif and Maryam Nawaz should face action for displaying the controversial video against him.
The judge said that the two PML-N leaders should face action for the tempered video, casting aspersion on the state institutions.
Malik said that he was appointed a district and sessions judge between 2000 to 2003, alleging suspect Mian Tariq drugged him through a meal and made his secret video.
Judge Malik claimed his video was manipulated and edited into controversial content. He said that the video was later sold to PML-N's Mian Raza.
He said that Nasir Butt, Nasir Janjua, Khurram Yusuf, Mehar Ghulam Jillani started to put pressure on him to aid Nawaz Sharif in the cases against him.