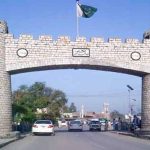 LAHORE: Pakistan Wrestling team amid cheers and clamor has arrived in Lahore on Wednesday after participation in Commonwealth Games held in Gold Coast Australia.
Warm welcome was accorded to the players and Inam Butt in particular for winning the first gold medal for Pakistan in the games.
Muhammad Inam won first gold medal for Pakistan in Men's freestyle 86kg wrestling by bewildering fellow wrestlers from other participating countries of the world in the XXI Gold Coast 2018 Commonwealth Games at Gold Coast, Queensland, Australia.
Besides winning gold medal by Muhammad Inam, another promising wrestler Tayab Raza also claimed bronze medals in Men's freestyles 125kg weight.
Meanwhile, Muhammad Inam dedicated his achievement to his teachers and parents and specially thanked the administration of Punjab Colleges and University of Central Punjab for supporting him and promoting an environment in which he polished himself.