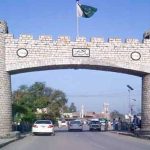 ISLAMABAD: Finance Minister Ishaq Dar says Pakistan is stepping up to a higher level of growth and better opportunities for economic prosperity of the people.
He was talking to Country Director World Bank Pochumuthu Illangovan and other senior officials in Islamabad.
He said the government after having achieved macroeconomic stability is actively pursuing economic growth and employment generation.
Pochumuthu Illangovan said the World Bank would continue to finance different projects in Pakistan to further strengthen cooperation.
Meanwhile, in an interview, the Finance Minister has said the government has achieved its targets of revenue collection till the third quarter of current fiscal year.
He said the government collected 297 billion rupees revenue against the set target of 230 billion from the month of January to March this year showing a growth of about twenty percent.
Ishaq Dar said maximum relief would be given to the masses in the upcoming budget.