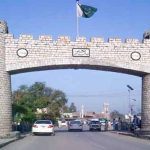 ISLAMABAD: Chief Justice of Pakistan (CJP), Justice Mian Saqib Nisar has expressed satisfaction over the preparations for general elections and said that today is a big day for Pakistan.
After casting his vote in Garden Town area of NA-130 Lahore constituency, the CJP while talking to media said he did not want to become part of any protocol.
CJP Nisar added that he wanted to cast his vote as a common man.
"We had promised to conduct free, fair and transparent elections and we honored our promise to conduct the general elections as per schedule", he added.