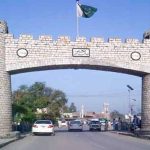 ZHOB: The security forces have seized a large cache of arms and explosive material from Zhob district of Balochistan.
According to reports, Frontier Constabulary (FC) and intelligence agencies carried out a targeted raid Gowalzai area of Zhob district.
The security sources recovered mortar shells, suicide jackets and three kalashnikovs while searching a house.