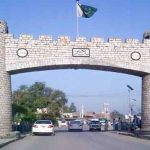 NOWSHERA: Jamiat Ulema-e-Islam (F) Chief Maulana Fazlur Rehman has said that we could not make the country a stable state, adding that our foreign policy remained week always and Pakistan has become the proxy war center.
Talking to media on the eve of his visit to International gathering ground in Nowshera, Maulana Fazlur Rehamn said that the international gathering is being held in connection with hundred years ceremonies of Jamiat. He said that the foreign people want to impose such education system which can keep Muslims away from Islam. The religion Islam is being portrayed wrongly in the world under an agenda and there is a need for national solidarity, for which that gathering is being staged. Currently there is a need for collective approach for Muslims to unite.
Fazlur Rehman said that Pakistan did not benefit of its Geographic value for the past 70 years. Pakistan could not increase its GDP more than 5. We must look at our priorities in connections with the world. Our mission is to resolve all differences politically. Our country's future depends upon CPEC. He further said that unluckily Afghanistan is under influence of India, which is a bad luck for us.