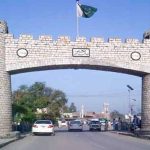 KASUR: Punjab Chief Minister Shahbaz Sharif has assured that all out efforts would be put in to arrest the culprit behind the rape and murder of Zainab.
Talking to media on Wednesday, he said that the provincial government would soon arrest the culprit and would deal with him in accordance with the law.
He appealed the residents of the area to cooperate in the investigations to help identify the culprit.
Shahbaz Sharif added that the investigation was being carried out in a scientific manner; however, he refused to give any time frame as to when the investigations would be concluded.
He also took a jibe at his political opponents saying that a similar case was also occurred in Mardan and asked his political opponents whether or not they would raise their voice for her.
"Will the protesters at Mall Road also raise their hands for our daughter in Mardan. Kasur's Zainab is also the nation's daughter like in Mardan. Mashaal murder case, assault in D.I. Khan are also incidents of Pakistan," he said.