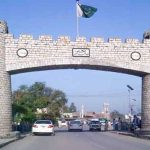 ISLAMABAD: Pakistan Muslim League-Nawaz (PML-N) president Nawaz Sharif on Wednesday warned against presenting all evidence before nation if engineered backdoor activities are not stopped.
While addressing a news conference at Punjab House in Islamabad, Nawaz Sharif asked not to implement engineered change forcefully. "Pakistan fate is linked with transparent and neutral elections. Don't make democracy a slave of your desires. All surveys suggest PMLN is far ahead of its opponents", Sharif said while urging foes to get rid of self-deception.
Sharif stressed on all stakeholders to let democracy flourish smoothly and asked not to curtail a political outfit through courts' verdicts."I will the story of what has transpired in the last four years with nation", he warned.
Coming on Trump's recent diatribe, Sharif termed it deplorable. "President Trump should follow diplomatic norms and values. He must not equate coalition support fund with aid", stated Sharif.
Sharif stressed on to ponder reasons that why world is not acknowledging Pakistan's sacrifices in anti-terror campaign. He claimed that backbone of the terrorists has been obliterated and that remaining terrorists would be flushed soon. "I have always asked to put our house in order first", Sharif told reporters.
Sharif directed incumbent Prime Minister Shahid Khaqqan Abbasi to craft a strategy to end Pakistan's reliance on US aid. "We have been fighting a war for 17 years which is technically not our war. A democratic government, unlike dictatorship back then in 2001, would never have sold its expertise to America", pronounced Sharif.