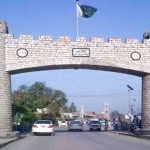 RAWALPINDI: Indian troops on Saturday shot a rocket launcher from across the Line of Control (LoC), leaving a young woman dead and her two siblings and a cousin critically wounded in a border village of Azad Jammu and Kashmir (AJK).
The attack took place when the victims were outdoors in Baig Wala Lanjot, a hamlet barely 150 metres away from the LoC in Nakyal sector of Kotli district, during the afternoon.
According to Abdul Hameed Kiani, the deputy commissioner of Kotli, 26-year old Rubaida Khayam, daughter of Sardar Khayam, died as a result of the attack. The victim's sisters Sufaida Khayam and Zubaiba, and cousin Sumaida Ismail were critically injured.
Nakyal Assistant Commissioner Waleed Anwar said the victims had no idea that the enemy could stoop so low as to fire a rocket launcher on them while they were busy in domestic chores.
He said the injured persons had been moved to Kotli's District Headquarters (DHQ) Hospital.
Cross-LoC shelling was not reported from any other area or sector of Kotli district, "but you never know when and where the cowardice enemy may resort to ceasefire violations," Kiani said.
On Friday evening, Shan Begum, 55, and Zara Khalid, 7, were injured in Keri village of Charhoi sector and Sana Babar, 11, was injured in Seri Manjwarr village of Khuiratta sector, also in Kotli district.
They were also under treatment in DHQ Hospital Kotli, Kiani said.
The heavily militarised LoC is frequently witnessing ceasefire violations in a serious breach of November 2003 truce agreement as well as a recent understanding between the two sides to respect the accord.
The fresh civilian casualties evoked a strong reaction from the AJK government functionaries.
"The bloodthirstiness of Indian troops has crossed limits inside the held territory as well as along the Line of Control," said Chaudhry Tariq Farooq, AJK's senior minister.
"Today's unfortunate incident is yet another proof that Indian troops are deliberately targeting non-combatant Kashmiris on both sides of the bloody dividing line (LoC) in a way that amounts to [commission of] war crimes," he added.
PPP regional president Chaudhry Latif Akbar also condemned the incident and said it should not go unnoticed at the hands of countries which champion human rights.
"The UN and world powers advocating human rights should see for themselves how mercilessly Indian government and its savage army is persecuting innocent Kashmiris on both sides of the LoC."
"For how long we will have to wait for the much needed UN intervention in accordance with its mandate," he questioned.