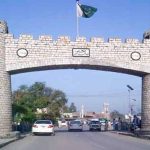 NAROWAL: Foreign Minister Shah Mahmood Qureshi said this is the corridor of peace, love and goodwill.
Addressing Kartarpur opening ceremony, he said the world is witnessing today the steps being taken by Pakistani government for promotion of interfaith harmony.
The Foreign Minister said the credit of this historic day goes to Prime Minister Imran Khan who has spoken for the protection of rights of minorities in accordance with the Islamic teachings and the vision of Quaid-e-Azam Muhammad Ali Jinnah.
Shah Mahmood Qureshi said the government has identified four hundred temples which will be renovated.
The Foreign Minister said Baba Guru Nanak preached the message of love, harmony and respect for humanity and the same message was preached by our Sufi saints. He said this message of peace should also reach to occupied Kashmir where people have been confined to their homes and not allowed to offer their Friday prayers.
Addressing the ceremony, Minister for Religious Affairs Noor ul Haq Qadri said the opening of this corridor is the biggest message of love, peace and harmony after partition of Indian sub-continent.
He said Prime Minister Imran Khan fulfilled the promise he made to Sikh community of opening their one of the holiest places.
He said Baba Guru Nanak spent his life in spreading message of love and peace. The Minister said Baba Guru Nanak spent six years of his life in Baghdad and visited the holy shrines of Muslims regularly that showed his passion for inter-faith harmony and respect for followers of other religions.
Noor ul Haq Qadri said the teachings of Baba Guru Nanak revolved around love, peace and tranquility.