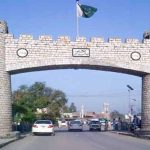 KARACHI: Former president Asif Ali Zardari has arrived in Karachi from Dubai in what has come as a sudden development following a terror attack at shrine of Lal Shahbaz Qalandar on Thursday that claimed 75 lives and injured at least 200.
Zardari is likely to visit the Lal Shahbaz Qalandar shrine to review the security situation and monitor the relief operations.
During the meeting, the Chief Minister briefed the co-chairman of people's party over security situation in the province and the blast.
In a statement over the blast, Chairman of Pakistan People's Party, Bilawal Bhutto Zardari has said that terrorists attacked Sindh's culture and civilization.
Leaders of Pakistan People's Party have condemned the attack and expressed sorrow over the loss of lives. The Government of Sindh have announced to observe a three-day mourning over loss of 72 lives in Sehwan blast.
Blast in Sehwan Sharif is the seventh terror attack in last five days across Pakistan. Quetta, Lahore, Peshawar are among the cities that have been hit in the fresh wave of violence.
Chief of the Army Staff, General Qamar Javed Bajwa has vowed revenge over loss of innocent lives.
Separately, a gun attack in Dera Ismail Khan coincided with Sehwan attack as three police personnel among four persons were gunned down.