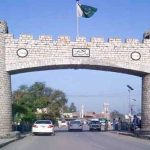 PESHAWAR: MPA of the ruling Pakistan Tehrik-e-Insaf (PTI) Ziaullah Afridi on Wednesday submitted an adjournment motion in the Khyber Pakhtunkhwa Assembly against Speaker Asad Qaiser over corruption charges.
Ziaullah Afridi cited in the motion that the National Accountability Bureau (NAB) has launched investigations against the KP Assembly Speaker Assad Qaisar over misuse of authority and corruption charges. He asked Asad Qaisar to resign for speaker position until completion of investigations against him.
Ziaullah Afridi also criticized the KP Ehtesan Commission for keeping mum over corruption charges against Speaker Asad Qaisar.