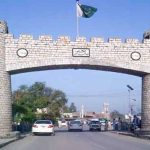 KARACHI: Eid-ul-Azha 2020 was to be celebrated on August 1, central Ruet-e-Hilal Committee Chairperson Mufti Muneeb-ur-Rehman said Tuesday, after the body met here in the city to sight the Zilhajj moon and determine the dates for the religious festivity.
The meeting was held with Mufti Muneeb in the chair, with the those of the zonal committees taking place at the provincial headquarters.
In Quetta, Maulana Anwarul Haq Haqqani, as well as officials of the district administration and the Pakistan Meteorological Department (PMD), gathered for the moon-sighting. PMD officials said the moon would be visible for more than 20 minutes and that the city's skies were clear.
On the other hand, a meeting of the zonal committee in Islamabad concluded, with its report sent to Karachi, according to Mufti Zamir Ahmed Sajid.
The central Ruet-e-Hilal Committee's chairperson would make an announcement regarding the sighting of the moon, Mufti Sajid added.
The director-general of Punjab's Auqaf and Religious Affairs, Dr Tahir Raza Bukhari, said the Zilhajj moon was not sighted in Lahore. However, he added that a final decision would be made by the central Ruet-e-Hilal Committee.
Earlier, Federal Minister for Science and Technology Fawad Chaudhry had said that Eid ul Adha would be celebrated on July 31 in Pakistan "as per calendar of the Ministry of Science and Technology".
Taking to Twitter, Chaudhry had said that the moon for the month of Zilhajj would be seen in Karachi and its surrounding areas on July 21. He had added that the moon could be sighted with the help of binoculars and in some areas, with the naked eye as well.