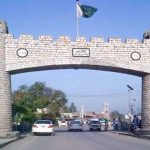 HARARE: Zimbabwe cricket officials said Tuesday they were vindicated after the national team returned from a high-security tour of Pakistan.
"We went to Pakistan, we are back and we are safe," Zimbabwe Cricket chairman Wilson Manase told reporters in Harare. "Nothing happened to say our lives were threatened. Our team was never in any danger. We are vindicated."
There were doubts whether the five-match tour would go ahead after the massacre of 45 minority Shias in an early May attack on a bus in Karachi.
It was the first visit by a Test-level team since seven Sri Lankan cricketers were wounded during a 2009 attack by militants in Lahore.
Following the attack, teams refused to tour Pakistan, who were forced to stage 'home' series in the United Arab Emirates.
The International Cricket Council (ICC) did not send neutral umpires for the Zimbabwe series, citing security concerns, and Pakistani officials were used.